Kaadan, Nadine. Tomorrow. Picture Book. Lantana Pub, 09/2018. 32 pp. $17.99. 978-1911373438. (RECOMMENDED). Ages 4-7.
When I first heard about Tomorrow I was very excited to read it. Not many books written in picture book format bring alive what a child is feeling while their country is at war. The story follows Yazan a young boy from the country of Syria. All Yazan wants to do is to go to the park and play with his friends. Unfortunately, he is no longer allowed outside, not even to go to school. When his family wants to go out his father makes a lot of phone calls first, when Yazan asks why, his father claims "Traffic! We're trying to avoid the traffic." Even his mother, who used to paint and let Yazan paint with her no longer does that. She sits in front of the television all day and watches the news very loudly.
Yazan tries to keep himself occupied by making paper airplanes, drawing and building castles out of pillows. But even that is not enough to stop him from wanting to go play outside. When his parents ignore his request to go out, he decides to take matters into his own hands, grabs his shiny red bike and heads out. However, what he finds is nothing is as it once was, the streets are deserted and nothing seems familiar. His father finds him and takes him back home where his mother scolds him and tells him to never do that again. She then brightens his day by telling him they will paint again and brings a park to his bedroom walls.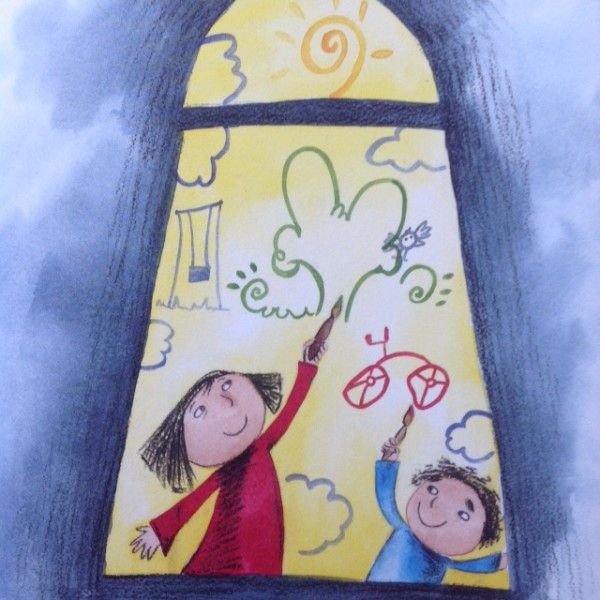 Yazan brings the story to life through her illustrations which are dark and gloomy as the book goes on. This is done to depict the mood of Yazan who is desperate to go out and have fun. There are two illustrations in the book that are bright and happy; the first is when Yazan remembers when his mother used to paint, and the second is at the end of the book when his mother picks up her paintbrush again to paint his room.
Kaadan also adds a note at the end of the story, which notes how her own experience seeing the children in her hometown of Damascus, not understand why their lives were changing, only that they were. Tomorrow is a gentle but somber depiction of the current condition of children in Syria. While Kaadan does not bring the war and devastation to the pages, she brings the everyday life of these Syrian children who no longer go to parks, play with friends or go to school. This would be an enlightening story to read with a child in order to begin to explain what is happening in Syria and to teach sympathy and understanding from the eyes of a child. While this story does not depict or mentions Muslims in anyway, after a little digging with the child, they will learn that Syria is a predominantly Muslim country.